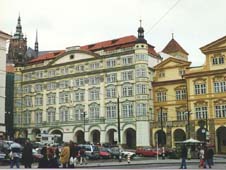 At the left bank of river Vltava in Prague outside the main tourist stream you find the interesting quarter Mala Straná with beautiful baroque buildings. Mala Straná is situated at the foothill leading to the castle Pražsky Hrad, one road leading by foot to the top, the other by tramway with stop at Malostranské Námĕsti. Malostranské Námĕsti is an impressing square, completely overshadowed by the massive Church of Saint Nicolas and a former Jesuit College. Wolfgang Amadeus Mozart has played the organ in the church in 1787. Behind the white building you have a glimpse of the towers of the castle. You can still see where the two representatives of the
Catholic emperor was defenestrated by Protestants at May 23rd, 1618, which was the beginning of the bloody Thirty Years' War. The houses on the square are mostly in baroque style and many of the houses are 600 years old. Malostranské Námĕsti is not an overcrowded tourist place like many of the places on the other side of the river, because normal traffic is passing. Several tramway lines are passing as well. The tram to the castle continues to Bila Hora (The White Mountain), where the Protestants were defeated November 8th, 1620. After half a day of visits Malostranské Námĕsti is an excellent and convenient place to have a rest with a cup of coffee in one of the small bars on the square. Male Strana was in former time the German part of the town, so the author Franz Kafka must have been here. History, culture and literature in one square.
PS. Prague has the best tramway system in Europe: through tunnels, in the middle of motorways, over a railway bridge, uphill mountains in several places etc.